How to Adopt a Tibetan Mastiff rescue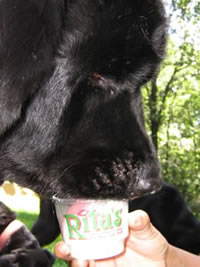 If you have read the information on this site and you still are interested in adopting a Tibetan Mastiff rescue, the first step is to complete the Adoption Application Form. Once we receive your Application, you will be contacted by a representative of TM Rescue.

Please note: ALL TIBETAN MASTIFFS ARE SPAYED OR NEUTERED BEFORE THEY ARE ADOPTED. NO EXCEPTIONS.

Also, please be aware that we will expect to perform a home check before a dog is adopted to you. In addition, with few exceptions, we require 6' secure fencing. No fencing or invisible fencing is not acceptable for a Tibetan Mastiff, no matter how large or how rural your property may be.

We do not discuss individual dogs until we receive your application.

If you have any questions, please contact Libby Justus Dickenson at libbyjustus@gmail.com.
| | |
| --- | --- |
| Samson before | Samson after |